Bob Village: Extreme sports and culture
Ning Network Spotlight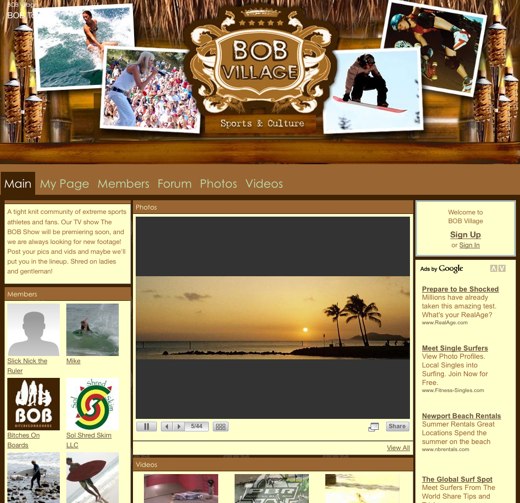 Bob Village is a tight-knit network based on a love of extreme sports. Featured on the main page are themes ranging from extreme surfing and snowboarding to the active life of Greenpeace activists fighting for what they believe in.
Keep up-to-date with the latest snowboarding events posted on the main page, or watch the latest videos of skateboarders strutting their stuff!
Want to compete in a skimboard/bodyboard contest to save Makena State Park Restoration? This competition takes place on Aug. 23, 2008 and is currently seeking contestants for entry! Visit Bob Village to learn more information about this contest.
Help Bob make a difference. You can visit the network and purchase the latest outer wear. The main page features its latest in hats and t-shirts designed to promote bob village!  Visit the main page to get details on purchasing the latest fashion designed by Bob Village!
Let's start create sport website with Ning