Bringing webinars together, worldwide
Ning Network Spotlight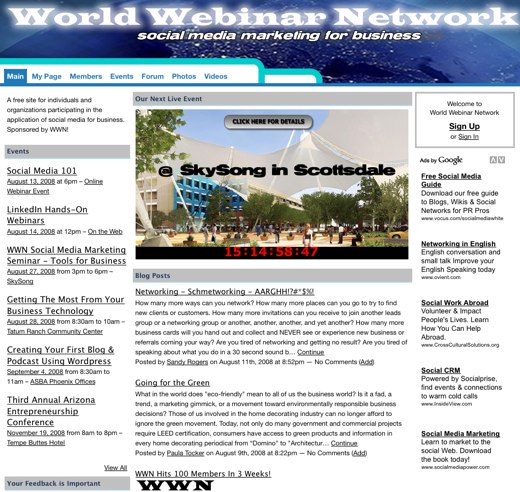 This goes without saying, but the Web is changing the ways we reach the masses and communicate professionally.  To this end, the World Webinar Network brings business owners and entrepreneurs together who are leveraging social medias and using online worlds as powerful marketing tools.  Since launching in mid-July, the quickly growing network already boasts 110 members (and still growing)!
Blog posts across the World Webinar Network stream a slew of tips and e-marketing highlights to inspire members and help one another out.  Notable and commented posts include "Tactic for Applying Social Media in Business Travel," how "Social Media joins the Presidential Campaign" and "Etiquette for Blogging."
Forums also let members gauge the pulse and know-how of their social media marketing peers through discussing topics such as how micro-blogging wonder child Twitter works or ways to get your LinkedIn network kicking.
So, what are you waiting for?  Check out and contribute to the World Webinar Network and get on the new wave of marketing to the masses (plus help yourself out in the process)!