Caffeine-inspired all-nighters
Ning Network Spotlight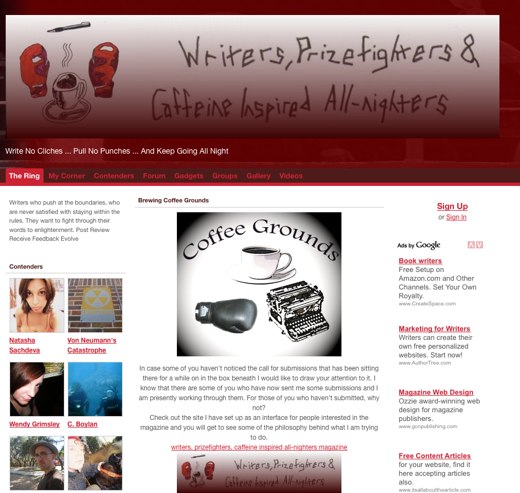 Some of the most popular and notorious writers are known to be eccentric and unconventional when it comes to novelizing. What better place for these paper and typewriter junkies to connect with one-another than on the self-titled network Writers, Prizefighters & Caffeine Inspired All-Nighters?
Bringing together an elite group of 120 "contenders" vying for the public's adornment over their writing, members showcase their well-worded masterpieces through the network's blog. Works like Paul Grimsley's "lithomancy trajectory", Logan Carryall's "Confession for the forgotten years", and Von Neumann's Catastrophe's "transmat manifesto" shine with allegorical praise and awed insight.
Writers, Prizefighters & Caffeine Inspired All-nighters is a place chock-full with members producing eloquent and witty phrases (see the comments). These poetic masterpieces aren't written by the weak-minded. Good company is so hard to find… so put your dukes up to contend.