CDL of it keeps on trucking
Ning Network Spotlight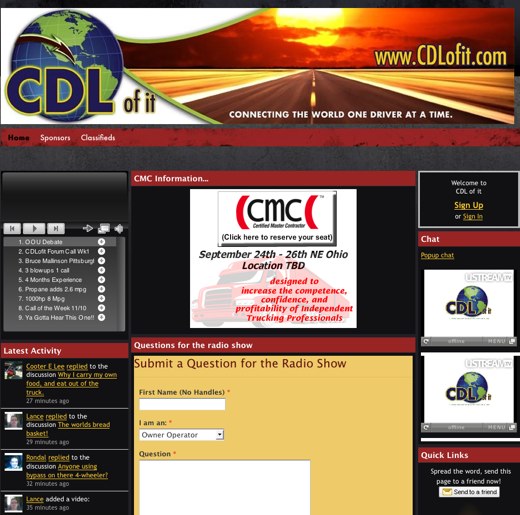 Since we've featured CDL of it back in June, the network has continued to make serious progress in connecting the world, one driver at a time! Network Creator, Kevin, has completely revamped the look and feel of the network, but it's the same thriving group it always was! Kevin was kind enough to share some of the inside scoop about CDL of it.
What motivated you to create a social network for truckers?
I have been working with and educating drivers and owner operators in the trucking industry for over 15 years, and I also own a small trucking company. The lifestyle of a truck driver is perfect for the tools we can provide with a social networking site, many drivers are away from home weeks at a time. The ability for drivers to communicate with family and other drivers was the primary motivation.
In the beginning I was focused completely on functionality and  usability and when things were up and running I decided to really go  back and work on looks and design. Now I am focusing again on adding
new features.
I have a radio talk show on Sirius XM Satellite Radio 7 days a week,  the program is on the trucking channel so I have a direct link to my potential members.
Forums by far, my forums average 20,000 pageviews a month.
I am busy working on business and financial calculators to help owner operators run their business. I am also working on a photo contest.  Members will submit photos of the signs on the highway as you are
entering a state "Welcome to State". It will be an ongoing contest  and at the end of each month I will award prizes to the person with  the most states that month. The grand prize will be given when a driver submits 48 states.
Target your niche, very specifically, find out where they are and what they are doing and target them directly. Give them tools that are unique to the interests of the group and the site. It doesn't hurt to
have a radio show heard in three countries either 🙂