Chat is Live in Beta for Labor Day Weekend
Updates
Your Ning Network
Early Friday morning, we released a new Chat feature for your networks that we described a few days ago here on the Ning Blog.
Screenshot of Chat on the Main Page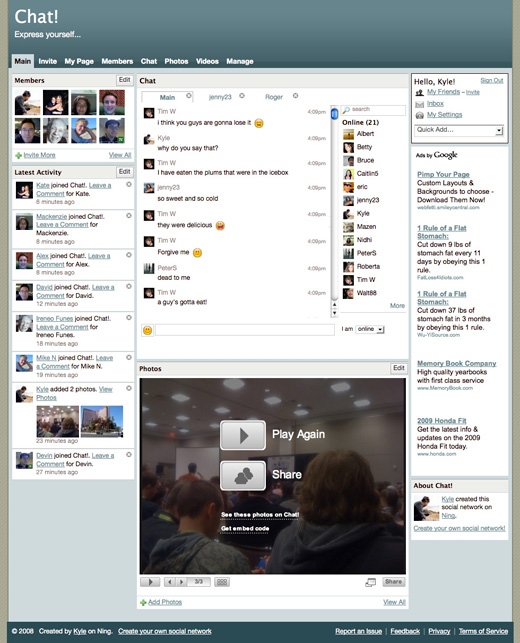 While we are spending the weekend stabilizing it and working out the kinks, you can add the new Chat feature directly to your network from your Features page. Once you drag it into your social network, you can choose to place it in the left, center, or right column of your Main Page. It will also have its own Chat tab in the main navigation.
When you add the Chat feature to your network's right hand column, it will show up across the pages on your network. This is the same thing that happens today with any feature you add to your network's right hand column. If you choose this option, then your members will automatically appear in the Chat feature's Online list as they are signed in and navigating your network.
Online and Chatting
If you sign into a network and are on a page that has the Chat feature displayed on it, it will automatically show you as online. Over the weekend or early next week, we will be adding the ability to show yourself offline, which will remove you completely from the Chat's Online list. If you choose to be Offline, you will not show up at all and Chat will remember your offline status until you sign out and sign back in or choose to show up as Online again.
A Few Other Details
As we've repeated early and often on Network Creators, we are rapidly addressing issues with Chat this weekend. It's currently unstable and a bit buggy, which will continue to be the case throughout the weekend. If you aren't comfortable participating in this beta period, no worries. Just check back on Tuesday when we will be in much better shape. These issues with the Chat feature will not otherwise have an impact on your network.
We launched with a set of smilies and emoticons. Next week, we'll offer a quick tutorial on how to change or add your own custom set of smilies and emoticons.
We were not able to apply the fonts and colors of your network to the Chat module in this initial version. Our goal is to apply the theme fonts and colors of your network over the weekend. I'll update this post on the final timing once we get more information.
There is not the ability to customize the CSS of the Chat module at this time.
You can hide the Chat module by clicking on the x in the upper right hand corner of the module. This will result in you displaying only the Main Chat tab.
We are evaluating reducing or eliminating the notification of people entering and exiting the Chat in the Chat thread. We totally recognize that this can get out of control, especially on large networks.
There is not the ability to moderate your Chat feature, delete individual chats, or block someone from inviting you to chat in this initial version. We plan on adding these in a future version.
Ahead of specific Chat moderation, when you ban someone from the network, it also bans them from Chat and removes any chats they have contributed. This is an interim solution.
If you invite someone to a private instant message and they decline your invitation, you will not get a notification in this initial release. We will address this shortly.
Again, we are working through issues this weekend, so if you see anything please drop us a note in the Ning Help Center. If you don't hear back from us right away, do not fear. We are not ignoring you. We're just focused on taking what is reported and rapidly releasing fixes.
Monday Update @ 12:00pm Pacific: We've made good progress this weekend on polishing Chat. Today our focus is on stabilizing and expanding the number of servers supporting Chat ahead of Tuesday. In terms of visible features, we removed the entry and exit notifications for Chat and are aiming to have Chat integrated with your network's theme as well as the option to show yourself as "offline" but Tuesday night. We'll keep you posted on details as we continue to make progress today. Thanks!