City Slam shoots and scores
Ning Network Spotlight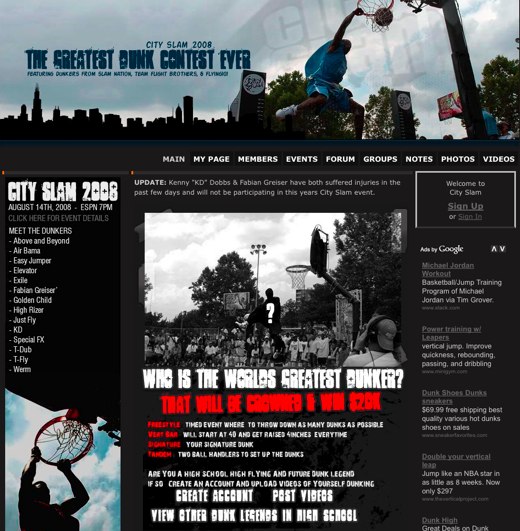 City Slam is all about ESPN's annual slam dunk contest where the best ball handlers and slam dunkers come together to battle it out for the top spot in four categories: vert, freestyle, tandem and signature.  This year's event will be held in The Windy City (one of two Chicago high schools will play host to the popular event, but City Slam is still listing the event as TBD) and Chicagoans are sure to be pumped!
ESPN has been hosting this event in various cities since 2005 and City Slam claims this year is sure to be the most anticipated. They've gathered THE top notch dunk teams for the 2008 event including big names such as Team Flight Brothers, Slam Nation and Flying 101.
City Slam gives an awesome overview of the event including "Meet the Dunkers" individual profiles for each of the participants and a comprehensive event listing including the date of the event and when it will be aired on ESPN. Promo videos showcase the high flying style and panache of dunkers like T Dub while other videos feature contests like Team Flight Brothers' opening dunk and "meet Team Flight Brothers" competition.
Want more info about the high flying, stylized, record breaking potential of "the greatest dunk contest ever"? Check it out at City Slam!