Communion with the Written Word
Ning Network Spotlight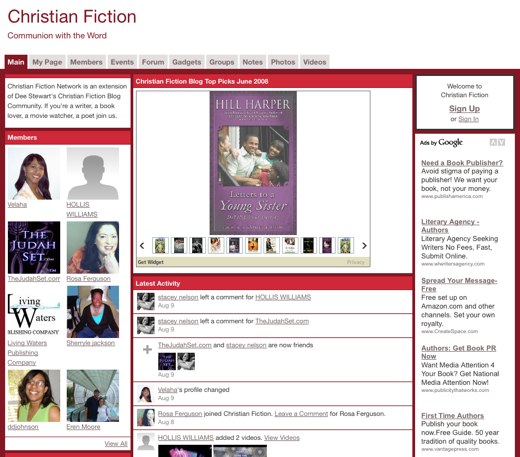 If the following words describe you — Christian, creative, professional — then it's a no-brainer: You should be a member of the Christian Fiction Network.
Started by Network Creator Dee Stewart, who also runs the Christian Fiction blog, the network is a place for Christians who work in fiction to network with other professionals. It isn't limited solely to authors. Dee encourages poets, people who work in the movies, fiction fans — really anyone who seeks to incorporate Christian themes and overtones into their work — to sign up.
The forum offers debates on questions larger (Can Christian fiction include profanity?) and smaller (What are you working on today?). Don't know where to begin? Make sure to read the network's blog, to discover how creative people across the country are incorporating Christianity into their work.
While oftentimes widgets can overwhelm a network, the Christan Fiction Network makes great use of a widget on their main page; it features the Christian Fiction Blog's top monthly book picks, so members and visitors alike know what the current must-reads are. No matter what your creative endeavors are, if you seek to incorporate you relegion into them, the Christian Fiction Network is for you.