Cooking up a storm at We Are Chefs
Ning Network Spotlight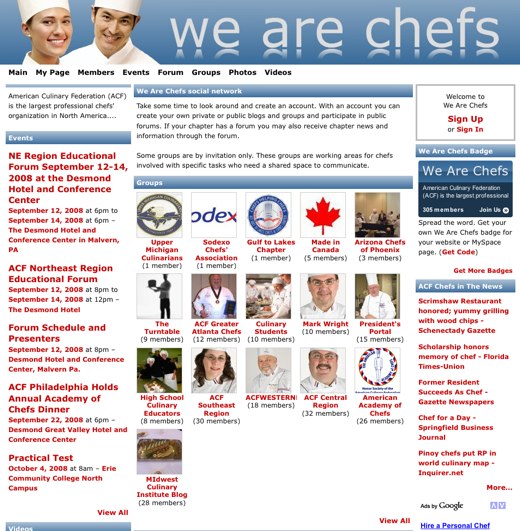 While other ladies lust after Brad Pitt and Christian Bale, I've always had a thing for men in clogs who spend their waking hours slaving away in kitchens. It's chefs like Anthony Bourdain who fill the ranks of my celebrity crushes.
Though there may not be too many celebrities propagating the ranks of the We Are Chefs network, it's still been fun to browse the pictures of their hundreds of members, not to mention checking out the food porn that's been posted.
The chefs on the network are all members of the American Culinary Federation, an organization dedicated to "promoting the professional image of American chefs worldwide through education of culinarians at all levels." They aren't kidding! Though much of the site is geared towards the pros, instructive videos can help even the most amateur of cooks get started. Check out this video for a how-to on butchering veal. Be still, my heart.
Though I haven't found my future mate in my browsing, I'm going to continue to check back on We Are Chefs. At the minimum, I can stop by their events section to find out when potential suitors will be in my area in the upcoming months. Or just ogle from afar.