Finding fun for your Crazy Chicago Kids
Ning Network Spotlight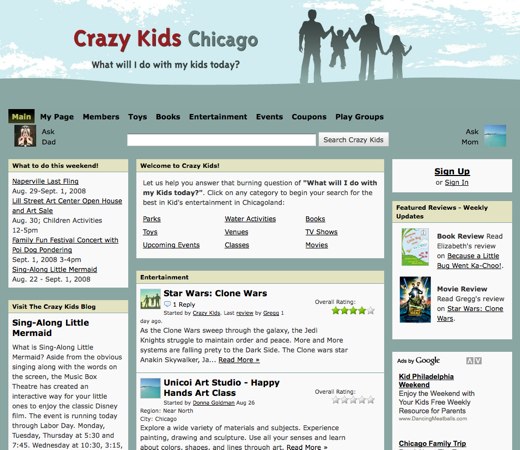 No parent is immune from wondering "what can I do with my kid today?" In Chicago, the problem is magnified, as four months out of every year are sub-freezing, making a quick trip to the playground impossible. Luckily for Windy City parents, Crazy Kids Chicago provides a place for trading tips on excursions and activities, as well as a potential meeting spot for new playmates.
In addition to many standard features like groups and events, the network has some added some great custom features. For example, if you are a mom who isn't really sure what to do, there's an "Ask Mom" option, where you can send in an email to a Chicago mom. A similar feature exists for Chicago dads. The Crazy Kids Chicago administrators promise to research your question and get back to you with a speedy response. If you just want recommendation on the best toys, books and excursion spots, the network has those, too!
If the idea of yet another trip to the Museum of Science and Industry or Wrigley Field is making you want to scream, check out Crazy Kids Chicago for a wealth of new ideas!