Display your Keiser Collections
Ning Network Spotlight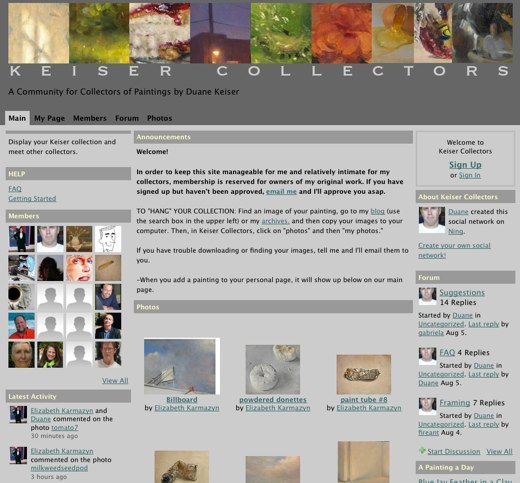 Artist and Network Creator Duane Keiser has made a mecca for owners of his work, aptly named the Keiser Collectors.  According to Keiser, this space "is reserved for collectors of my original paintings and I have kept the site semi-private so that there is some sense of intimacy."  This "intimate" network brings the artist head-on with his most dedicated fans and lets him reach and stay in touch with his loyal following.
Through the network, these art aficionados connect with a close group of members that, unsurprisingly, have similar artistic and stylistic tastes.  "Collectors sign up and post the paintings they own, make comments about paintings, start forums about, say, framing or artists and collectors," said Keiser.  "They each have a page where they can, if they choose, say a little something about themselves."
Keiser's still-life subjects and style cues exude soothing familiar scenes of golden hues and dream-like qualities.  If you're truly set on getting your ticket into the Keiser Collectors, bid on your very own Keiser through his linked blog "A Painting a Day" (his blog also features a nifty network badge for Keiser Collectors!).
Reflecting on Keiser Collectors, "they are really wonderful, interesting people who happen to be connected by the fact that they have an affinity for what I paint," Keiser concludes.  "I'd thought it would be great if they had a community where they could meet each other. I had thought of doing this years ago but didn't know how to go about doing it. Then I discovered Ning and voila."