Eat the View: We must cultivate our garden!
Ning Network Spotlight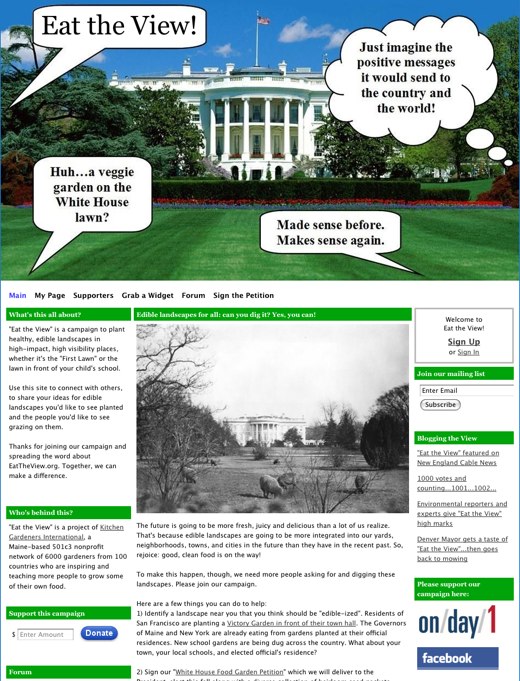 Eat the View is a network that's all about increasing the visibility of one of the world's most pressing issues — how we manufacture, share and consume the food we eat. The solution proposed here is straightforward enough — by growing edible landscapes in and around your own backyard, you'll be able to "eat the view."
Started by the nonprofit organization Kitchen Gardners International, Eat the View makes good on its promise.  The campaign is rallying people to sign a petition asking America's next president to plant an organic food garden on the White House lawn.  In turn, the fresh produce will head to the Commander-in-Chief's kitchen and local food pantries. As the petition points out, such a move would actually be a return to tradition rather than a break from it — the White House has maintained food gardens in the past.
The network is as much a grassroots campaign as it is a national one. From New York to San Francisco, citizens are calling on their governments, schools, and neighbors to participate in the movement towards self-sustainability. Eat the View encourages everyone to get involved, by tapping local resources and planting in "your town, your local schools and elected official's residence."  Planting your own vegetable garden sends a strong statement and is easy — especially when you're getting sound advice in the forum.
Start growing for the future at Eat the View!