Fijiians connect at Sotia Central
Ning Network Spotlight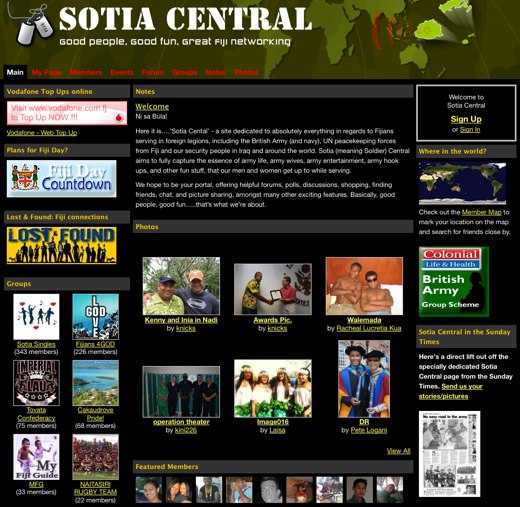 This network is for Fijian soldiers, those serving in "foreign legions, including the British Army (and navy), UN peacekeeping forces from Fiji and our security people in Iraq and around the world."
This network embodies what Sotia, meaning soldier, life is all about for these Fijians. Sotia Central is the online hangout space for people involved in the force, "good people, good fun… that's what we're about."
Fiji is a small place. Because of this it's easy to run into people you know just walking around the island. Sotia Central has used this to provide a ton of stuff on its home page to connect people. The Lost and Found link sends you to a place where people can connect on missed connections and find lost friends. Members of Sotia Central can connect about their plans for Fiji Day. They also have a chat room, where they speak mostly Fijian.
The groups section is also a great place where members can connect. Groups from specific areas let locals talk about what's happening nearby. There are a few religious groups that have garnered  huge popularity. The biggest group however, by far is the Sotia Singles group. This group, with a live chat function, lets it's members chat and connect on the romantic plane.
See how this small island makes some big connections. Check out what those who are supporting fiji are up to and make a contribution yourself! You can do it all on Sotia Central.