Finding some Foresight
Ning Network Spotlight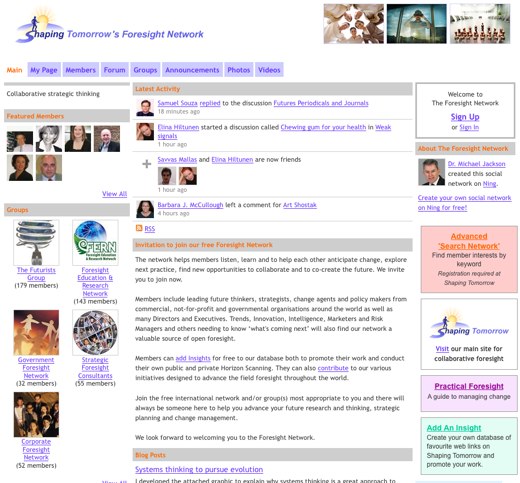 For those with an entrepreneurial spirit or seeking business-minded advice for the future, The Foresight Network opens the floodgates for collaborative interactions and fosters an environment to ask all the right questions.
Members use forums to consider challenging issues, leave comments and offer professional advice between one another in topics ranging from "Pandemic flu implications for broadband" to "Branding in the 21st Century."  Likewise, blog posts across the network stream an up-to-date mash-up of what's really on the minds of Foresighters.
Narrow-in on more than 1,500 members and find those with similar professional goals by joining many of industry-specific groups.  You'll connect with members that share your passion for learning at the "Foresight Education & Research Network," find other Web 2.0 creative strategists in "Media and Technology in a visual world" and learn what's on the metropolitan horizons at the "Urban Futures Group."
Exercise your forward-thinking skills at The Foresight Network and help answer the question: "What's next?"  You'll be making tomorrow brighter.