For all things Buffalo, BuffaloME!
Ning Network Spotlight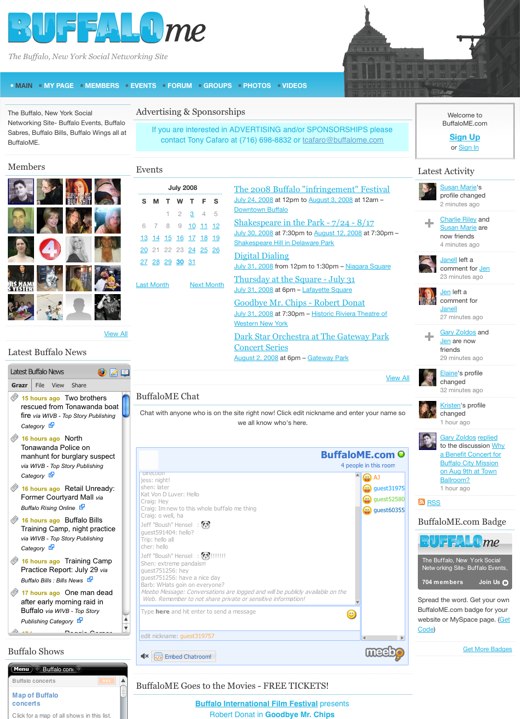 BuffaloME is providing Buffalo, N.Y. locals with a great network for connecting, chatting and just hanging out.
Buffalo is known as the City of Good Neighbors, and that nickname proves apt in the forum. Here, members talk about everything from beating the summer heat to top restaurants. And while the trash-talking going on in this kickball discussion teeters on the edge of neighborly etiquette, the mere fact that members use the network to organize kickball games is pretty awesome.
It's got a small-town feel, but BuffaloME provides tons of big-city culture. In the events tab, members can check out festivals, film screenings, poetry readings and plenty more. Shakespeare in the Park, which draws 50,000 attendants on average, just kicked off and will run at Deleware Park until August 12.
The '08-09 NHL season doesn't start until October, but that hasn't stopped rabid Sabres fans from talking about their favorite players on the team. Right winger and Buffalo native Pat Kaleta gets a lot of love, but so does enforcer Andrew Peters. Look for the sports talk to really heat up when the much-beloved but perennially underachieving Buffalo Bills take the field on August 9.
Having attracted more than 700 members in less than a month, the network is drawing plenty of attention, in-state and out. BuffaloME isn't just a useful network for locals to communicate and get together — it's also a fantastic ambassador for the city.