Get off the sidelines for Women's Pro Soccer
Ning Network Spotlight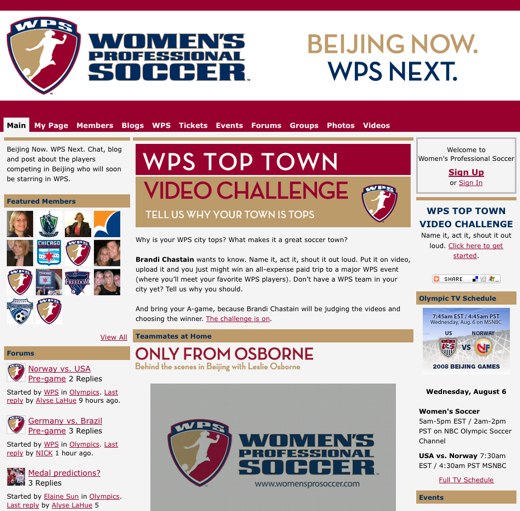 Known as football everywhere else around the world, Women's Professional Soccer in North America is making a comeback.  The new league kicks off for the 2009 season in April with seven teams matching up: Boston, Chicago, Dallas, Los Angeles, New Jersey/New York, St. Louis and Washington, D.C.
The players are getting some pre-league "practice" as many of them represent America in the 2008 Olympics.  If you missed out on scoring tickets to see Team USA duke it out with the world, no worries.  You can check out the Olympic TV schedule and tune in when they charge the field in Beijing.
WPS members are blogging up a storm about the Olympics and free kicking it in the Olympics forum.  Looking ahead, check out events to follow the WPS as the league drafts up the seven dream teams.
So, join the WPS network and be at the digital sidelines with more than 340 fans cheering on the players at the Olympics and the April 2009 league opener.  "Beijing Now.  WPS Next."