Get your hands dirty at PrintJunkie
Ning Network Spotlight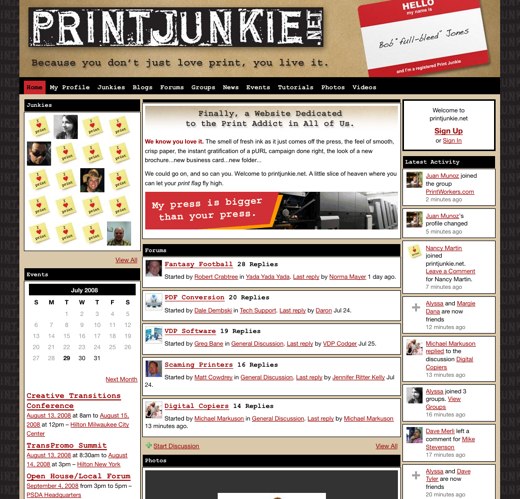 There are so many options when it comes to printing. Do you use matte, gloss, thick, thin… What to do? If you have printing questions or obsess over how your final product looks you might be considered a Junkie. Don't worry! There is help out there at PrintJunkie.net.
The main page of the network has a great description of what it means to be a print junkie. Their 1,000th member contest is sure to make this network explodes. Other features are well displayed. Their layout is worthy of a printing press. Check out all the modules connecting you to valuable print resources.
They've done a great job with the rest of the network as well. They've used some advanced techniques to create new tabs connecting you to the latest blog entries of members. You can check out some neat tips and tricks from the Network Creator, Jennie. She's got the low down on how to make your page look perfect. She's a junkie and just reading her helpful tips might turn you into a junkie too.
Navigate over to this network and get your toner ready. This network is exploding with color and dots per inch. Get addicted at PrintJunkie.net!