Go east, young man: Hollywood East TV
Ning Network Spotlight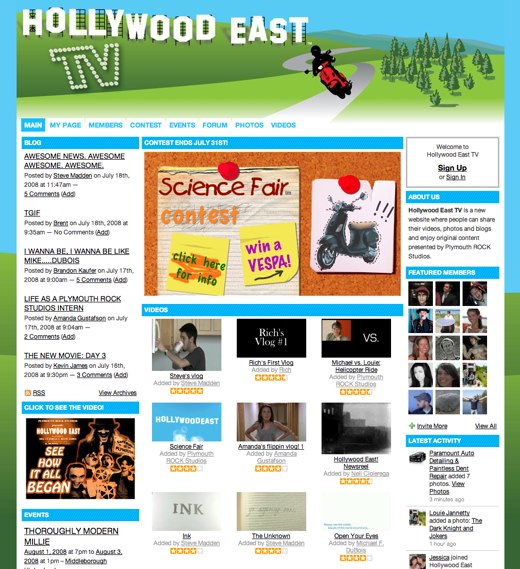 Hollywood's nice and all, but we Northeasterners have some reservations about visiting it. Taking a six-hour flight to an overexposed, tourist haven plagued with earthquakes just isn't for everyone. But thanks to Plymouth Rock Studios, Hollywood is about to get a lot closer to home.
Introducing Hollywood East: A movement to bring the heart of the film industry to New England. The social network Hollywood East TV gives members an easy way to communicate and keep abreast of updates on Plymouth Rock Studio. You can see a totally faithful re-creation of the idea to bring Hollywood to the East here.
As you'd expect from a network about movies, videos figure prominently. The New Kids on the Rock — the folks behind Plymouth Rock Studio — provide funny and informative updates via webisodes like this one. And on the contests page, members are currently competing for a new Vespa by submitting videos with a "Science Fair" theme.
The forum has a category exclusively for networking, so actors and crew will definitely want to check out the discussion threads for work. Together, Plymouth Rock Studios and Hollywood East TV are changing the landscape of the industry for both consumers and producers of movies.