Go green at EndFossilFuel
Ning Network Spotlight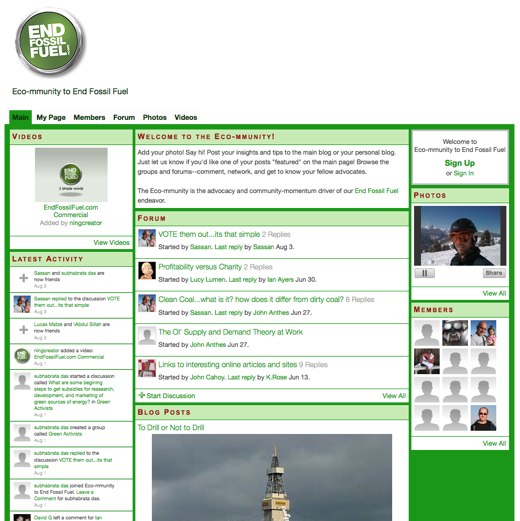 With the green movement gaining momentum each passing day, newbies looking for information have a plethora of niches to choose from.  At the Eco-munnity of EndFossilFuel.com green information seekers of all types are sure to be pleased.
EndFossilFuel.com's Eco-mmunity is a haven for all types of environmentalism and green advice.  Here the environmentally conscious can read posts concerning high impact issues such as offshore drilling and wind power and comment to an audience highly in tune with like-minded issues.
The big picture isn't the only focus of this community.  If you're looking for ways you can help the green movement right now the EndFossilFuel.com Eco-mmunity has you covered.  They feature some awesome posts and forum entries targeting changes anyone can make in their own life that have potential for extensive and lasting impact on the environment.  Not only are the members of this Eco-mmunity talking the talk, they're walking the walk too.  See how other members are doing their bit to change the world through their many photos.  They've even posted their commercial for online viewing!
If you're looking for an actively green community it's definitely worth your while to check out the Eco-mmunity at EndFossilFuel.com.