Going down to Paradise City
Ning Network Spotlight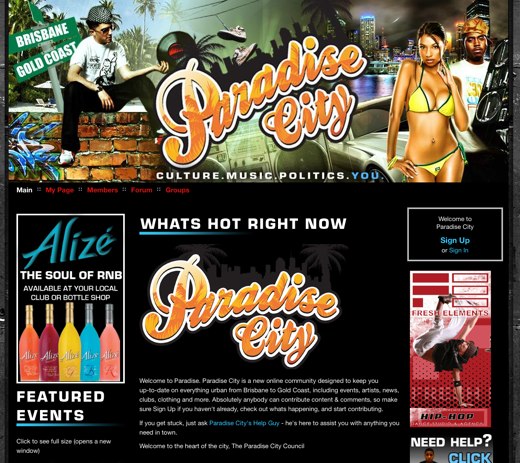 If you're searching for the go-to source to staying in-the-know about urban culture and lifestyle south of the equator, look no further than Paradise City.
Paradise City's blog stays fresh by bringing you the hottest coverage and commentary on culture, music and politics; the Australian network wants to keep you fly from Brisbane to Gold Coast.
The main page gives you a quick snap-shot of featured events that you won't want to miss: 50 Cent's official world tour DJ will be grooving in Surfer's Paradise, and the 2008 DMC World DJ Championships will be free-stylin' all around the land down under.  Paradise City also wants its 120 members to add content and comment.  Forums let City socialites speak their mind, debate and get the word out about gigs worth checking out.
If you're looking for ways to make your Paradise City page golden with blinged-out features like music and themes, Paradise City's Help Guy is your lifeline.  Drop this cat a message with your questions and he'll hook you up.
As it's winter in Australia right now, stay hot by checking out Paradise City.