Gold Coast's Social Music Network
Ning Network Spotlight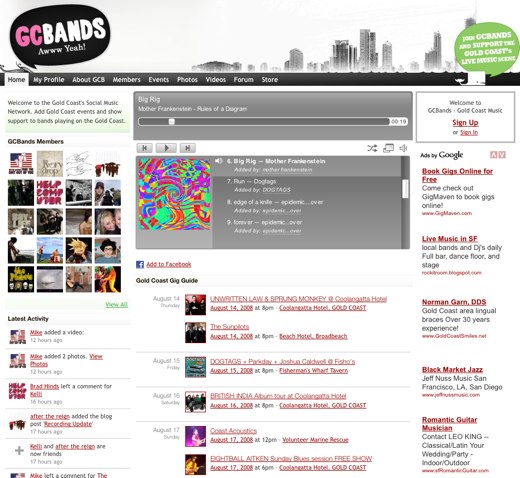 With so many local bands all over the world, it's hard to keep track of what might be going on in your local scene, let alone be aware of all the other small time bands out there trying to make it big.  Gold Coast's social music network, GCBands.com, is making it simpler for fans on Australia's Gold Coast to keep up with the latest in local music trends and get some "awww yeah!" with their music networking.
Bands on the Gold Coast are featured all over this music-centric network. Each day, featured albums at the top of the main page automatically start up with tracks from the latest bands. Exposing fans to new music or deep cuts from albums that might have just one hit song is just one way Gold Coast spreads the melodic love.
If you're on the Gold Coast, it's not hard to fill that Friday night time slot… just go to GCBand's event page, or take a look at their Gig Guide on the main page, for a comprehensive look at all the hot local concerts.  They'll show you who's playing when and where.  Clicking on the venue doles out the 411 on the history of other events they've listed at that location in the past and what bands are coming up there.
Not sure if you're checking out a band you already know?  The live concert snapshots and clips in the Photos and Videos areas can help you figure it out.  Great candid shots and videos from previous gigs are archived there.   If you still need help deciding on your next dose of "awww yeah!" take a peek in the forums, and ask fellow fans for their two cents.
If you're into the local music scene this network sets an awesome example for other localities looking to get area bands out there. If you live on the Gold Coast take advantage of GCBands.com and check out your local music scene now!