Ignite your life at FoodSpark
Ning Network Spotlight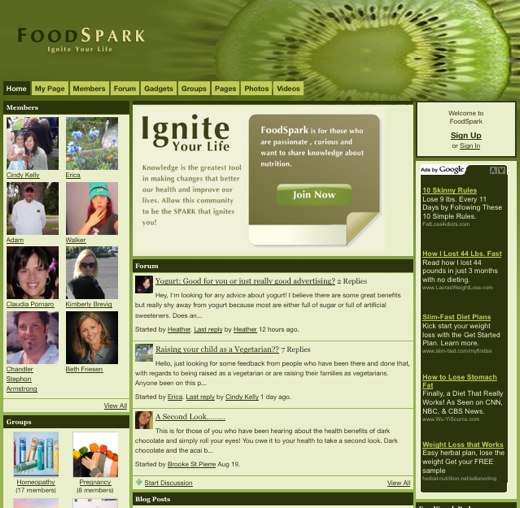 With such an overwhelming wealth of health and diet information out in the market today, who can be expected to come out of the informational black hole with any idea of what's up or down?  Studies conflict with each other every few weeks and what was definitely healthy one minute ends up having a claim of negative effect the next.  This is where FoodSpark comes in.
FoodSpark is "for those who are passionate and curious about nutrition" and knowledge is the the weapon of choice.  Join a network of people who are trying their best to find the right information about nutrition to improve health and life quality.  Members here discuss everything from raising your child as a vegetarian to diets that help Thyroid balance.  You can find groups for homeopathy and links to other great nutrition sites.  Over all this network is a good looking, but more importantly, useful resource where members can gather to give and receive advice and share their own experiences.
Trying to be healthy and live a better life isn't always the easiest thing to accomplish. Often the road is paved with obstacles and trials along the way, and what works for one person might not be the right thing for you.  With trial and error, some tested knowledge, and a strong network of people who are looking to achieve a similar goal you've got the ingredients to ignite the spark in your life at FoodSpark.