I'm in a Pez State of Mind
Ning Network Spotlight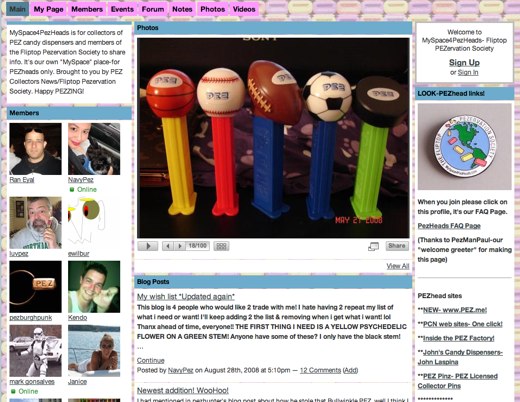 For anyone looking for some childhood nostalgia or to start an emblematic collection, MySpace 4 PezHeads-Fliptop Pezervation Society is your sweetshop. The network brings together collectors of PEZ candy dispensers and members of the Fliptop Pezervation Society in a colorful dance of plastic heads and sugary goodness.
More than 1,050 PezHeads share with the world their most prized Pez dispensers.  Some member favorites include Traveling Pez's pink stem sylvester, PEZaniac's USA Witch and Marky Mark's Universal Studios Wolfman.
The forum and blog are abuzz with members trading hard-to-find dispensers, pondering if Pez is worth keeping in its orignal packaging and showcasing recent acquisitions.  With the network's ever-growing collection of sweetly cute collectibles, members share nearly 7,000 snapshots of their prized possessions.  For some face-to-face time, events highlight upcoming gatherings for Pez fanatics (the next is Myrtle Beach's PEZ in the Sun Convention!).
Considered by many to be a clever and fun device for eating candy, you'll see on MySpace 4 PezHeads that these plastic collectibles mean business.