It's about Reel Worship
Ning Network Spotlight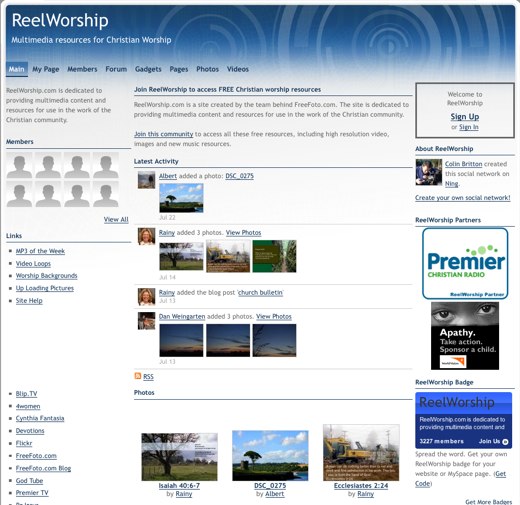 If you're looking to wow churchgoers with professional and creative graphics during worship services, the ReelWorship network is a God-sent. Created by FreeFoto.com photographer Colin Britton, ReelWorship is "dedicated to providing multimedia content and resources for use in the work of the Christian community" by the network's 3,250 members.
In addition to offering more than 2,500 photos of serene seascapes and peaceful meadows, members are invited to contribute their own spiritually significant pictures to ReelWorship.  If lyrical hymns and peaceful moments are more your forte, enjoy over 100 videos with Oscar-worthy cinematography, like "Cross at Sunset" and "Rain Falling on Geraniums."
Now that scenic megapixels and YouTube clips have made their way to a church near you, get a preview of what you might expect to see at the worship service of the future at ReelWorship.