French conversation about media challenges
Ning Network Spotlight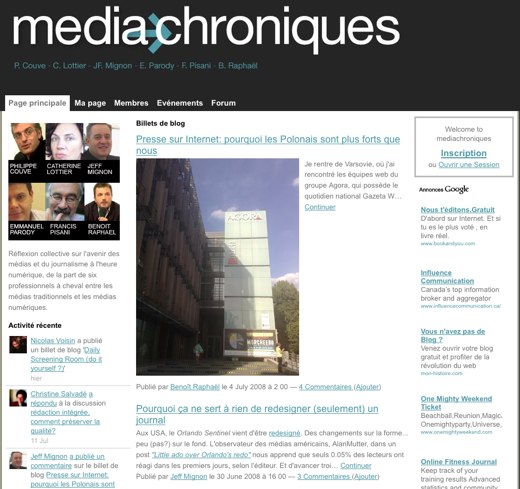 As digital devices and technology continue their rise in popularity the media world is faced with new challenges that change their business daily.  This inevitable and exciting transformation is the theme of Mediachroniques, a French language site created by media professionals riding the wave of change from traditional media to digital media.
Mediachroniques covers a wide range of media topics from an article on how blogs might be changing the way justice is perceived to a dialog on mullets.  Don't let the mullets fool you, this site is no fluff entertainment, they cover serious issues and reflect on one of the biggest growing pains of 20th century media.
Media professionals and enthusiasts gather on the Mediachroniques forums to discuss, ponder, support and encourage.  Not only is Mediachroniques an awesome site for discussion they also feature frequent recruiting posts for media related careers.
Film or digital?  Newsprint or online news source?  Make the call at Medichroniques!