La vida en la villa
Ning Network Spotlight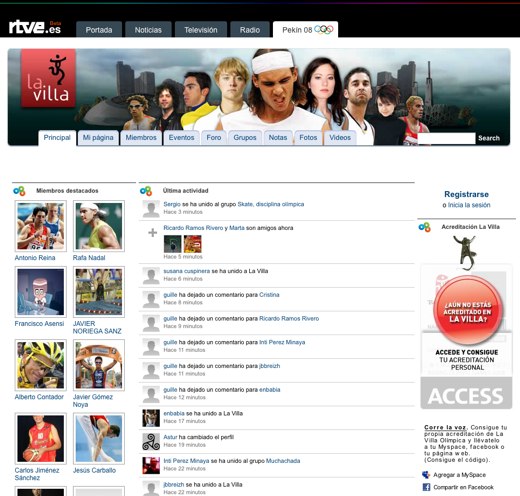 Esta noche comienzan los Juegos Olímpicos con la Ceremonía de Apertura en Qingdao. En La Villa, una red que tiene 500 olímpicos españoles (verdaderos y de fantasía) como miembros, es posible seguir los juegos desde la perspectiva de los atletas.
El miembro/atleta más famoso es tenista Rafa Nadal, y su cara feroz aparece al centro del logotipo. Es posible dejar unas palabras de apoyo con él y los otros atletos, como el jugador de NBA Juan Carlos Navarro o nadador Mireia Belmonte.
En particular me encantan las insignias, o "badges", que tienen la aparencia de una "acreditación personal" a los juegos. ¡Es un buen método por correr la voz! Gracias a La Villa, se puede seguir la vida de los atletas españoles mientras compiten por el oro en China.
Some networks are cool in any language. La Villa, a social network that features Spanish Olympians as members, is a perfect example. Tennis fans will not want to miss the opportunity to check out Rafael Nadal's profile page!