Law enforcement flocks to Cops Online
Ning Network Spotlight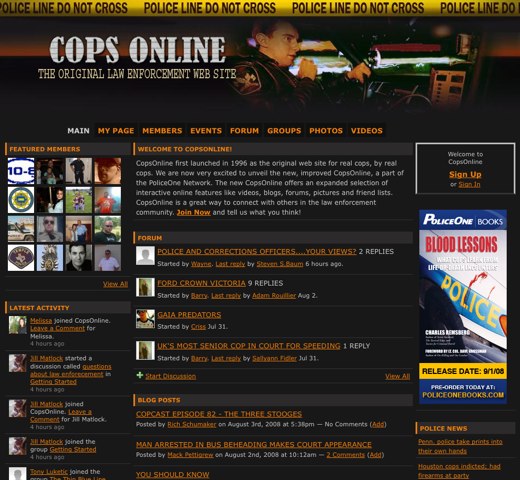 Cops Online is a great way for law enforcement all over the United States to connect!  The network is equipped with pictures, videos, forums and friend list created by real cops for real cops!
The network has created more than 20 groups for members to become a part of.  One of the four featured groups gives members the opportunity to discuss issues related to criminal justice training.  Want to leave a comment regarding the issues of this group, or simply give input? Join the training group and start asking questions today!
Cops Online has more than 500 photos posted on their network.  The photos include pictures of the law enforcement officer's family and friends as well as a few pictures of the "k-9" critters who help out the officers!  Go to the "photos" section on the main page to check out all of these action packed, as well as inspirational photos!
Cops Online features some of the latest conferences and seminars coming up.  Check out the Events section on the main page to find out what is going on all over the country!
Visit Cops Online.com to learn more about what's going on in law enforcement!