Make it a Big Life
Ning Network Spotlight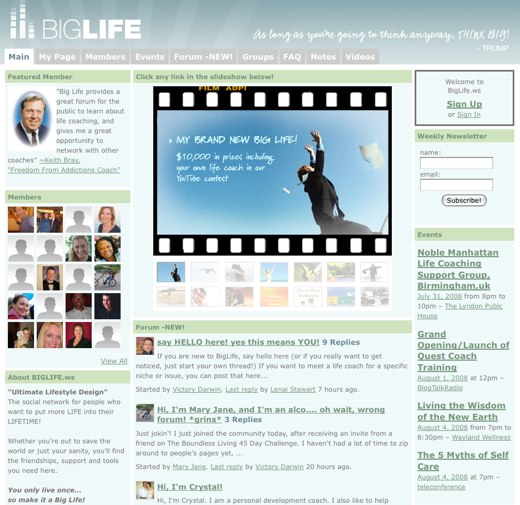 Do you think there's more to life than just living it? Do you want to change the world, market yourself, or find your purpose? Are you ready to live the Big Life?
Big Life is a network for life coaches and the people who need them. Spearheaded by Network Creator Victory Darwin, Big Life provides a level of connectivity you won't find anywhere else. In the events tab, classes like "The 5 Myths of Self Care" are conducted via teleconference, and "The Official Launch of Quest Coach Training" just kicked off at BlogTalkRadio.
I was wowed by how welcoming and open the forum was. This is where new members are encouraged to introduce themselves, and describe what kind of support — if any — they're seeking out. The result is a great environment with social entrepreneurs mingling together and sharing ideas.
If you're just joining the 550 members already living the Big Life, you'll definitely want to check out the FAQ! That's the first place to go if you're done with the same routine and ready to do it Big.