Making friends in Albany, Ga.
Ning Network Spotlight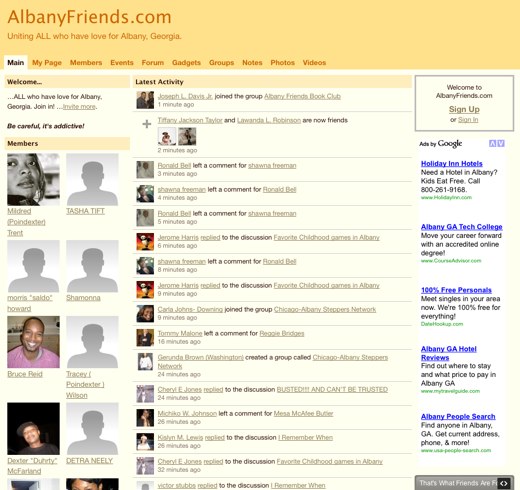 If you thought peaches, Coca-Cola and Chick-Fil-A were the only things adored in Georgia, check out AlbanyFriends, a self-proclaimed network that unites "ALL who have love for Albany, Georgia."
With nearly 500 people on AlbanyFriends, the forums are hopping as members reminisce about their beloved town and share ALL-BENEE slang and favorite childhood games with one another.  Members also connect by joining groups such as Monroe High School (go Tornadoes!) and the Country Club Crew.
Posted events like the 15-year reunion for Dougherty High School's Class of 1993 bring old friends and classmates back together in real life.  Past get-togethers and priceless memories can be shared via photos and videos like this featured photo of Albany friends in Grant Park by LaShane M.
Whether you call Albany your home or want to find out what gives this town its spirited flare, it's all about southern hospitality at AlbanyFriends.