Meet Nancy Radlinger
Ning Network Spotlight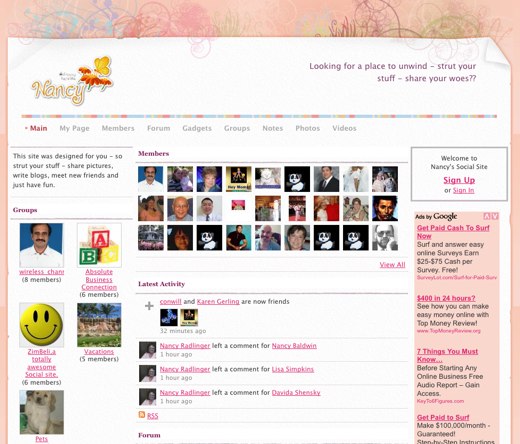 Nancy Radlinger is an awesome example of making your own little space in the world and then watching it expand into a place everyone wants to be. It begs the question: Why set up a Facebook or MySpace profile when you can create your own social network completely devoted to all things you?
Created by (you guessed it) Nancy Radlinger, her network doesn't really have a focused theme, and that's what makes it so great!  It's a creative space for people to meet up and share thoughts, videos, photos, stories and likewise comment on others.  From inspiring (and sometimes sarcastic) motivational messages, to a birthday board complete with birthday wishes on your own special day, Nancy Radlinger really is a "place to unwind".
In keeping with the theme of unwinding this network features a fantastic Gadgets page or, in actuality, six pages of amusing Gadgets.  What better way to unwind then whiling away the hours chatting in the forums or checking out the multitude of cool gadgets?
This network is proof positive that even if you don't have a super specific idea or theme you can still create an awesome network.  See for yourself, take a minute to unwind and meet Nancy Radlinger!