Mindmappers, taking over the world
Ning Network Spotlight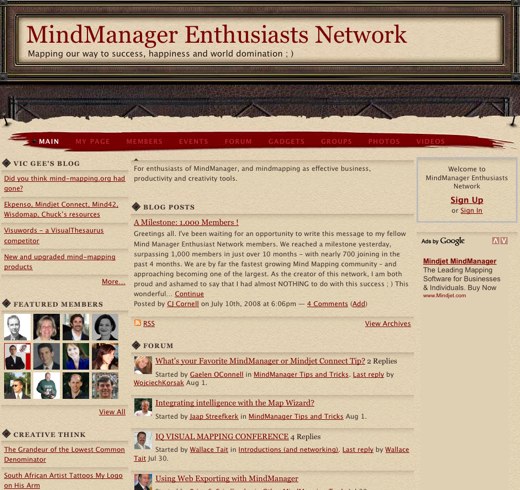 Great products and ideas don't just happen.  They take initiative, creativity and even a little digital assistance.  The MindManager Enthusiasts Network is your resource and go-to center to get inspired and turn ideas into results.
MindManager is an application that outlines your great ideas and gives you the power to organize a battle plan to realize and execute your goals.  Mindmappers show off some of their own mindmaps in photos, all in the name of sharing ideas for your ideas.
Learning anything new can be daunting, and the 1,100 mindmappers also help each other out with open lines of communication in the forums.  Introductions, MindManager FAQs, tips and tricks are great ways to get you up-to-speed.
Need some more guidance?  Check out the 48 tutorials that'll give you video and narrative play-by-plays for creating beautiful and well-executed mindmaps.  Start here to see how you can manage your projects more effectively.
For all-things MindManager, and to get your great ideas started, become a mindmapper at the MindManager Enthusiasts Network.