Navy Wives Offers Support, Friendship
Ning Network Spotlight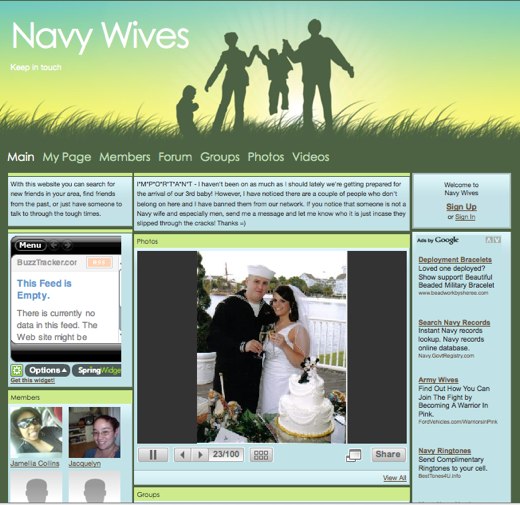 It's one thing to read about the conflicts in Iraq and Afghanistan in the newspaper. It's another thing entirely when it's your loved one who is in the armed services, deployed overseas. Navy Wives is a network created by one such wife as a way for Navy spouses to say connected to each other and offer friendship and support during times of need.
At almost 700 wives strong, Navy Wives has members from across the country. Region-based groups help members connect with each other, like the Hampton Roads or San Diego groups. Though many of the wives may have seen each other on a base, or at an event, the groups help them put names with faces and help provide a way to make a first, important step towards friendship.
With spouses half-way across the globe, it can be easy to become lonely. Discussion forums provide an outlet to discuss challenges and issues Navy Wives face in their day to day lives, like alienation on the base and being a single parent. It certainly isn't easy being married to a military man, but with the Navy Wives community, the challenges can be faced with the support of hundreds of women across the country.