New Chat Feature Coming This Week
Updates
Your Ning Network
Due to popular demand, we're releasing a new Chat feature for your network this week. The release is currently slated for Thursday night. We will finalize the release time and date as we complete testing and QA in the next two days.
Here's a screenshot of the new Chat feature on the Main Page, with more details and screenshots after the jump. Click on any image to see a full page version: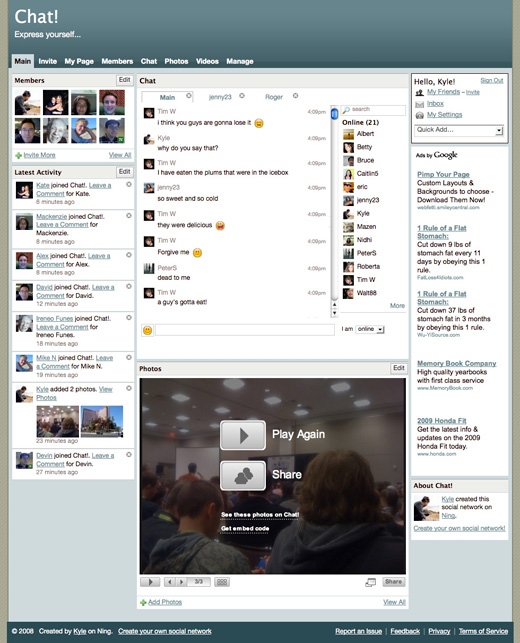 You'll be able to add your new Chat feature directly to your network from your Features page. Once you drag it into your social network, you can choose to place it in the left, center, or right column of your Main Page. It will also have its own Chat tab in the main navigation. Here is Chat in the left column:
Left Column View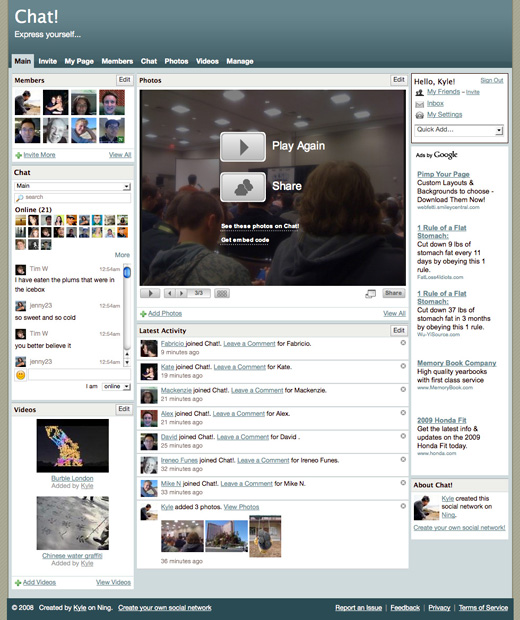 Here is Chat in the right column:
Right Column View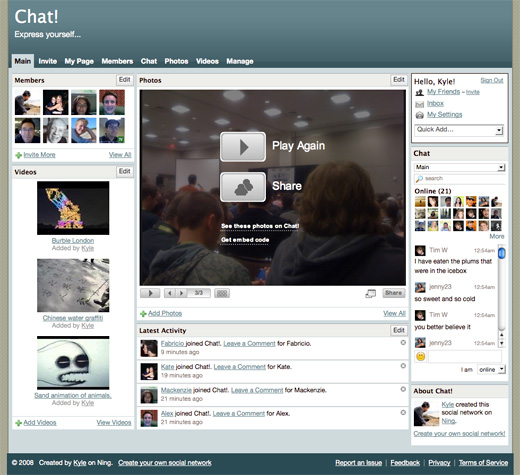 When you add the Chat feature to your network's right hand column, it will show up across the pages on your network. This is the same thing that happens today with any feature you add to your network's right hand column. If you choose this option, then your members will automatically appear in the Chat feature's Online list as they are signed in and navigating your network.
Here's the Main Chat tab:
Main Chat Tab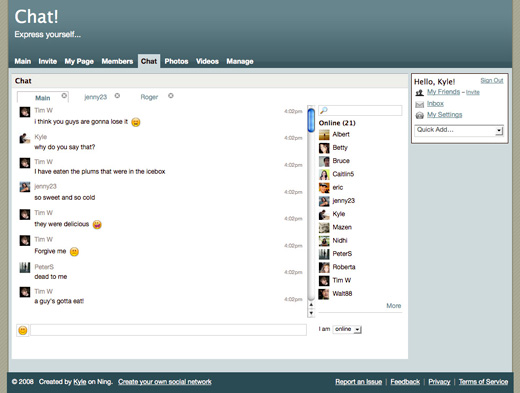 Instant Messaging
You'll be able to click on anyone who is online and chatting to open an instant message session. Here's the prompt you'll see: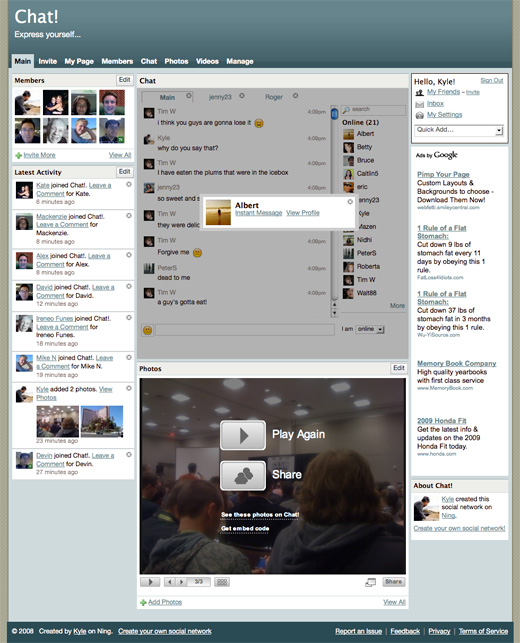 And then a new tab within Chat will open for you to talk privately with this person.
Online and Chatting
If you sign into a network and are on a page that has the Chat feature displayed on it, it will automatically show you as online. You can choose to show yourself as offline, which will take you completely off the Chat's Online list. You will not show up at all and Chat will remember your offline status until you sign out and sign back in or choose to show up as Online again.
We offer another online indicator on the profile page and the members page. You'll still show up as online here if you are not on a page with Chat or chosen offline status from within Chat. This is because this online status indicator is a feature on all networks, independent of whether they have the Chat feature installed. For this reason, if you enable the Chat feature they will both be there but remain separate.
A Few Other Details
There will be a set of smilies and emoticons at launch. We'll also offer a quick tutorial on how to change or add your own custom set of smilies and emoticons. (And, no, this does not mean that we're adding smilies and emoticons to the discussion forum just quite yet.)
Your Chat feature will take on the fonts and key colors of your network. You'll also NOT be able to change the CSS on it in the initial version. If you have custom CSS, there is a strong possibility that your Chat module may seem broken and we won't have a great way to investigate and fix it immediately. I know that sucks, but I want to set expectations that there are edge cases with custom CSS that we won't have a chance to test thoroughly before we release Chat.
There will only be one Chat instance per network, but the ability to Instant Message up to some currently undefined number of people simultaneously.
There won't will be a way to hide the Chat feature from the Main Page and only have it on the Main Chat tab in the first version. We plan to offer this shortly. We will be offering this in the initial version. (Thanks, Russell)
We will not have a buddy list of your friends on the network who are also online and chatting in this initial version. We plan on adding it shortly.
We won't be able to launch with the ability to block someone from inviting you to chat. We plan on adding it shortly.
There won't be a way to moderate Chat or delete individual chats from the Chat feature in the initial version. We plan to add this option in a future release.
When someone is banned from the network, it will also ban them from Chat and remove any chats they have contributed.
You have to be signed in to participate in the Chat. For example, if your network's Main Page is visible but you have to sign in to see the network, clicking on the Chat module will pop open the sign up page. (Thanks, Jana!)
There won't be a way to contact someone who is on the network but offline from within the Chat feature. The best way to contact them will be to send them a private message from the message center.
There won't be a way to show up "offline" to the Main Chat while participating in private IMs in this initial version. We hope to address this in the future.
If you invite someone to a private instant message and they decline your invitation, you will not get a notification in this initial release. We will address this shortly.
There will not be any type of chime or sound notification of new messages in this initial release. We hope to add that to a future version.