Pink Baller, truly cause worthy
Ning Network Spotlight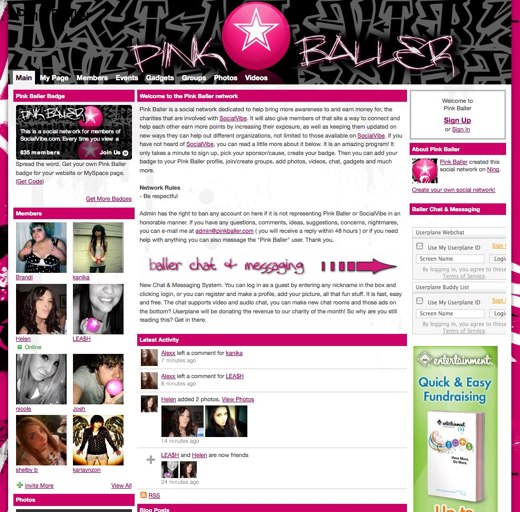 Pink Baller is one of those networks that brings a smile to my face and gives my faith in humanity the little boost it needs every so often. Pink Baller is actually a fan network for another site that uses the power of webbies (that's my speak for internet users) and brand sponsorship to raise money and awareness for hundreds of worthy causes.
The fan network Pink Baller spreads the love by bringing more awareness for the various charities people and brands are supporting all over the Internet with badges and donations. They also provide another viral venue for other fans looking to spread awareness to meet, share tips, create another group for their causes and get the word out.
This network has an amazing groups page, a great example of how this feature can seriously add value to any network and get members chatting and involved.  With a ton of groups (which means a ton of causes) to choose from, anyone surfing Pink Baller can find a cause that hits home for them. If by some chance they don't, or new members notice their pet cause isn't listed, creating a group is super easy. As an added bonus Pink Baller's members are moving and shaking all over the place, and are sure to hop into to new groups with zeal.
Pink Baller is a truly inspiring network with a good look, active members, a lot of activity, and all for a plethora of awesome causes that are helped with every new view to the page. I challenge everyone out there to check out Pink Baller and do something good for your cause in one of their groups. If you don't see your cause, join, add it and spread the love.