Pint Size Cruisin Rules!!!
Ning Network Spotlight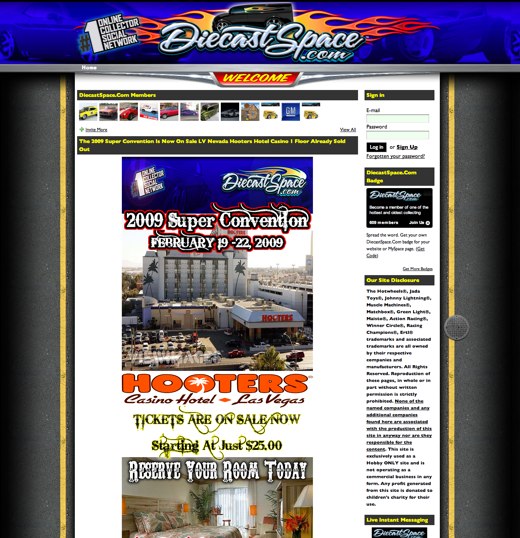 Since we blogged about Hot Wheel Collectors' Space, this network has undergone a complete makeover. Even the name is different! This popular hobby is obviously growing. You can see this passion in the popularity of this awesome network, DicastSpace.com, the no. 1 online collector social network.
This network is for artistic enthusiasts, and appropriately it has a fantastic design. This is one of those networks that takes the Ning platform and really makes it their own. The main page has a ton of stylized content that lets you immerse yourself in the Die Cast world. You can read all about the 2009 Super Convention, a die cast vehicle owner's dream.
The events section of this network is packed with fun for enthusiasts. Pitsburgh's largest annual toy and comic convention can be found at Steel City Con! A wild night has been planed in Warwick, R.I. at the First Annual Hot Wheels Summer Smash.
This network is all about having fun. Check out the fun games in the lounge section. You can spruce up your own car.  You can also make yourself a sweet VW bus, just the way you like it.
If you are looking to have fun you have to navigate to this network. Nostalgia for your younger days, rolling toy cars around on your mom's carpet, will flood right back to you. Indulge in it at DiecastSpace.com!