Portuguese 2.0 at Interactic
Ning Network Spotlight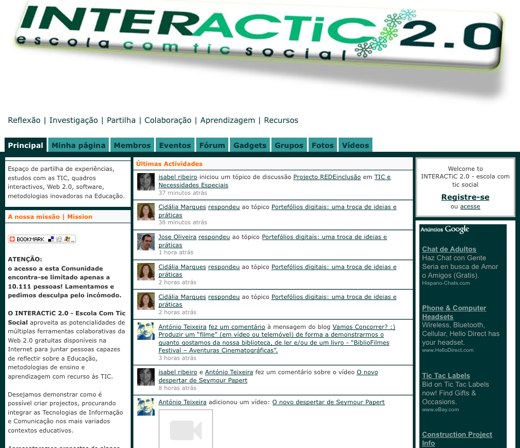 The motto of Ineractic 2.0, a network for educators and teacher in Portugal is "information that will need to be used in a lot of different ways needs to be taught in lots of different ways" (Spiro, et al, 1996). That quote couldn't be more fitting; the network's focus is bringing together educators of all types who seek to incorporate new technologies and ways of approaching learning styles into their classrooms.
Network Creator José Paulo Santos did some translating for me, after I admitted I couldn't real Portuguese fluently. Members of the network present "proposals for tuition plans, methodologies and activities that
promote the critical, constructive and collaborative among students and teachers, to promote new approaches to learning and the culture of a new school," he explained. And I'm not the only one outside of Portugal to take notice; Terry Freedman at the Educational Technology Site called Interactic 2.0 a "vibrant community, full of passionate people."
If you want to see what Terry's talking about, stop by Interactic 2.0! Just remember to bring your dictionary (or open up Babelfish) if you aren't a Portuguese pro.