Push yourself with the 100 day raw food challenge
Ning Network Spotlight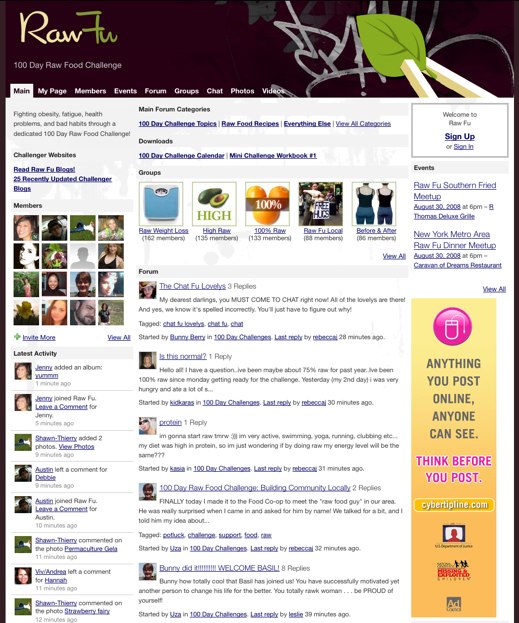 In this day and age, a person rarely has the time to stop and smell the figurative roses. It's time to take matters into your own hands and do something good for you! Fight obesity, fatigue, health problems and bad habits by committing to the 100 Day Raw Food Challenge at Raw Fu.
100 days sounds like a long time to deprive yourself of those delicious processed foods. It takes enormous self-restraint and discipline. Network Creator, Bunny Berry, provides you with a 100 Day Challenge Calendar and approaches the 100 Day Challenge as you would any ambitious goal: one step at a time. Bunny Berry breaks it down into 10 mini-challenges and emphasizes planning ahead. Highlight days on the calendar when you have special occasions; by taking these days into consideration, you'll be much more likely to experience success.
Most important, take advantage of the vibrant network of support that exists at Raw Fu. It's a large and active network with nearly 900 members, but a tight-knit one at that! Members whole heartedly encourage one another and recruit new raw foodies. Celebrate the challenge by discussing your natural highs. Ask questions about the whole process and learn from the experience of others. During those tough days, share your feelings of ups and downs with your members — chances are they'll not only understand, but empathize. Read blogs to keep yourself motivated!
For a more specific focus, join one of the many active groups such as Raw Weight Loss, Juicy Juicers, Raw Athlete and Raw College Students. Within a group, you'll be able to get to know like-minded members and discuss specific challenges you may face.
Go raw at Raw Fu today!