Recruiters find a networking home
Ning Network Spotlight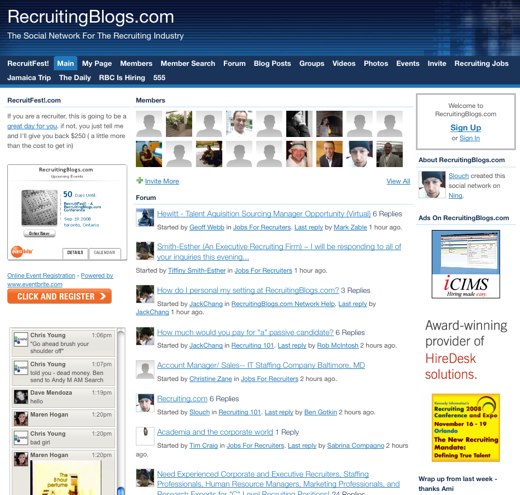 Obviously recruiters know how to network. At Recruiting Blogs, you've got more than 11,000 talented invdividuals in one hot spot!
Groups are a great way to meet members and get connected. The most popular groups include Recruiters on LinkedIn (1,025 members), Six Degrees (963 members) and XtremeRecruiting.tv (582 members). If you're looking for a recruiting job or to hire recruiters, take advantage of the forum to network and pick up a lot of valuable information. It's clearly organized for your every need and include categories like Recruiting 101, Jobs for Recruiters, Recruiting Rants and many more! Of course you can't forget to check out all the blog posts from members.
Slouch, Network Creator of Recruiting Blogs, has a contest in place to encourage members to "collectively create some great video about the recruiting industry and RecruitingBlogs.com."  The lucky winner gets a trip to Jamaica!
If you're in the recruiting industry, Recruiting Blogs is the place to be!