Spread the word at SWOM
Ning Network Spotlight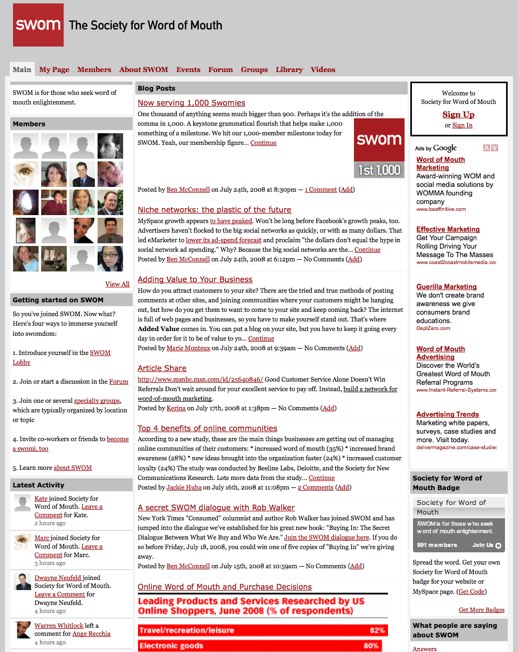 What in the world is the Society for Word of Mouth? Well, SWOM members (swomies) are those who recognize that real word of mouth "comes from an organization-wide focused effort and a grassroots-driven community that inspires passion and customer evangelism." This is where SWOM comes in.
As outlined in About SWOM, SWOM's purpose is two-fold: to be a free social network for the true believers of word of mouth and to be a premium educational resource for making word of mouth fundamental to the DNA of any organization. Swomies should keep in mind that the network is about sharing information, not shameless advertisment.
New swomies should definitely make an introduction at the SWOM lobby. If you're interested in giving or receiving advice, check out the "help fellow swomies" section in the forum. There are now more than 1,000 swomies out there! Obviously, the most important and vibrant aspect of SWOM is the active communication that takes place. Swomies talk about everything in every way possible which include posting blogs, joining groups and participating in discussions.
One of two chief swomies, Ben McConnell takes some time to give us more insight on SWOM.
You make your network's purpose wonderfully clear in your About SWOM section. However, what prompted you to create your network?
Jackie Huba and I have been writing the Church of the Customer blog for several years, but we didn't have a way for readers to meet one another. Discussion boards by themselves weren't going to be enough. When we saw what Ning was doing with social networks, it was a no-brainer to start one with the idea of creating a social network for anyone seeking word of mouth enlightenment.
What is the most interesting thing that has happened with SWOM?
How quickly it reflected the types of things we'd researched and wrote about for our book "Citizen Marketers," which chronicles the early history of citizen-created media and fan sites. In it, we discuss how once a brand enables community, a number of its "citizens" pitch in and take ownership. That happened with SWOM from day one.
What is in the future of SWOM?
The future of SWOM is education. We have a peer-to-peer support system in place with the social network, and we'll eventually grow it into a larger educational platform.
You've recently reached 1,000 members! How did that feel? Any advice you could give other Network Creators hoping to increase their member count?
It felt great to reach 1,000, especially since we don't have anything approaching the star wattage of David Hasselhoff!
Unless you're an already established brand with a huge following, it takes work to build a community. I think one analogy is that of a party host where very few of the guests know one another. A really good host has an interesting and comfortable party location, greets the new arrivals personally, makes them feel welcome, and introduces them to others at the party.