Start swinging for the fences
Ning Network Spotlight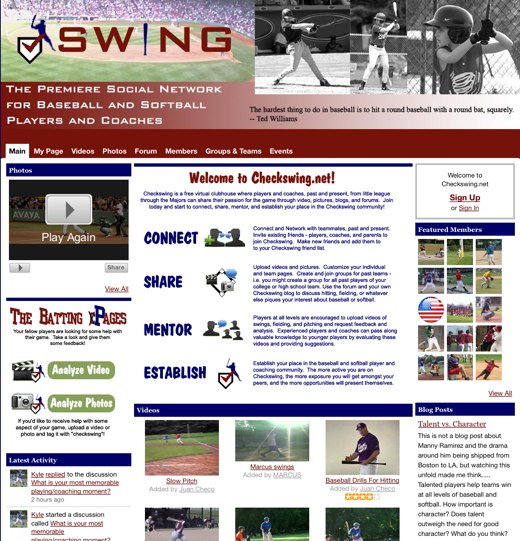 Checkswing is the premiere social network for baseball/softball players and coaches! Whether you are looking to connect with teammates or mentor players of all levels, this network brings endless possibilities to the sport of baseball!
Are you looking to upload videos and photos of you or your team in action? Checkout Checkswing to promote your latest performances caught on tape or discuss hitting and fielding tips with other members!
Some of the featured items on Checkswing are groups and teams, as well as any upcoming events.  The events can range from the announcement of a new team forming, to tryouts for a softball or baseball team coming up!
Baseball players needed for a tournament, pitching speed, and throwing distance are all some of the themes posted on the latest forum of the Checkswing Network.
Want to improve your hitting for baseball? Go to the videos section on the Checkswing Network and watch some of the videos geared towards improving your swing. Also, located under "videos" is a great educational video on "baseball drills for hitting." You can upload a video of yourself to Checkswing and receive feedback on how to improve!