Stay in shape at Twit2fit
Ning Network Spotlight
People Profiles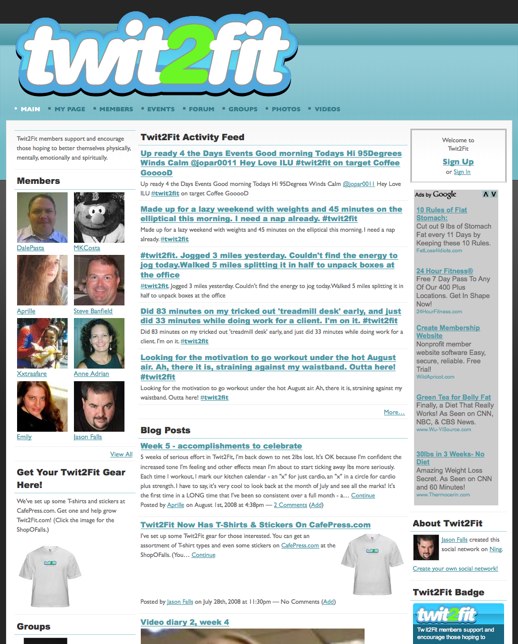 Technological advancements have resulted in a decrease in physical activity and the cost of food, contributing to the rise of unhealthy lifestyles. At Twit2Fit, you can start to reverse this trend by using technology to your advantage!
Members Twitter to keep each other posted with the Twit2Fit hash tag (#twit2fit), using their network to support, encourage and motivate one another. But it's not just about becoming physically fit (however you would describe that); it's about bettering yourself in so many ways — physically, mentally, emotionally, spiritually and everything in between.
Network Creator Jason Falls provides more insight on Twit2Fit by answering a few questions.
Where did you get your idea for Twit2Fit, and what motivated you to create your network?
It started as a lark. I was looking at a YMCA brochure that my wife wanted me to see. We were considering joining because our local Y has a splash park and our 3-year-old son would enjoy that in the summer time. I Tweeted (on Twitter, obviously) that I was checking out the Y and a couple friends joked that they'd like to see me at one working out. (I'm a hefty 280 and haven't exercised in 20 years or more.) So I said in a Tweet that if 50 of my followers on Twitter would commit to an exercise program, I would too. In about 10 minutes or so, I had 28 responses saying, "I'm in!" Well, that kind of response was all the motivation I needed and I committed to doing it.
Over the course of a day or so, it really started to sink in what happened. The only thing that has kept me from really exercising and dieting over the years is the appropriate support mechanism. My family doesn't work out. My friends don't work out, etc. I just needed the right support mechanism and I got it from my Twitter followers. So I wrote a blog post introducing the #twit2fit hashtag that told anyone interested in supporting others, or getting support and motivation themselves, to use it, monitor it and respond accordingly. Within a couple of days dozens of people were doing it. One of them, Justin Seeley, designed a Twit2Fit logo and sent it to me. I started a FriendFeed room to give us a place to monitor the hashtags (via RSS import) and had something like 50 people join in a week.
So, I knew a community platform was the logical need. People could share video diaries, before and after photos, participate in forums, etc. I shopped around the idea to a couple of white label providers telling them we could split ad revenues and the like, plus it would give them a chance to show off their stuff in a public way, but no one took me up on the offer. Thank goodness for Ning! I procrastinated, thinking the build would take forever and might be above my technical skill set, but I launched and started pointing people to Twit2Fit.com (I just redirect the URL) about three hours after I started.
The motivation was completely behind the notion that we all just need that support and encouragement mechanism to keep us focused on fitness. I found it in my Twitter community. My hope is that others can find the same thing with those of us who have carried that over to our own little home on the web.
Twit2Fit is for anyone (you don't even really have to be on Twitter) who needs a community of support, comfort, encouragement and praise to stay focused and motivated on their path to good health. And it's not just people looking to diet and exercise. I consider mental, emotional and spiritual fitness part of the equation, too. If I'm feeling depressed, cranky, lazy or am just craving a double-cheeseburger, I can Tweet on Twitter, or post a message or blog on our Ning community and within minutes (in most cases) there are folks offering comfort, support, encouragement. The bigger we get, the more frequent and responsive the community will be. So it's really for anyone interested in bettering their overall fitness in all those different categories of life.
Honestly, if it's the same 35 or 40 people on there now and we're continuing to support each other, I'll be tickled. It's not something I plan on spending a huge amount of time on, other than participating myself, so we're going to be a go-with-the-flow and see what happens crowd. If we have 100 members, 1,000 members or 10,000 members a year from now, it will be worth the trouble if that support mechanism exists for those interested.
As long as people are getting something out of it, it doesn't matter. If the community says they want us to add features, we'll see what we can do to add them. But the "we" in this equation is me when I have time. So it will literally be a community effort to do anything beyond the basic communal place. Of course, I've already been approached by some content providers and sponsors, so if there's a way to make new things happen in a way that doesn't upset the symbiosis there, I'll give it a shot.
Have fun with it. The tools are easy to use and the communities are easy to customize. And don't get caught up in making it perfect, let your community guide you. The worst thing you can do as a community manager, in my opinion, is get to the point where you dread logging in and dealing with it. If it's not fun, don't do it. If it stops being fun, find someone to take over who will think it is.
I'm 35 years old, married with two children (three-year-old son and 15-week-old daughter) and about as unhealthy and non-wellness oriented as they come. I've always wanted to lose weight and take better care of myself and this has emerged as a good chance that I'll be able to do that consistently. I want to do so because of my kids. The thought of not seeing them grow up cripples me and at my age and my weight with my lifestyle, I've got to make some changes to make longevity possible.
I'm originally from Pikeville, Ky., a small town in the Appalachian Mountains. After spending 11 years living an athletic life vicariously as a PR guy for college athletic programs, I made the leap into mainstream advertising and PR in 2006. Because of a long-time passion for online activity (been blogging since 1998) and social networking, I started jumping up and down on the conference table that we should be recommending more social media programs to our clients. In 2007, I was given the opportunity to do just that and became Doe-Anderson's Director of Social Media. I develop social media and online communications strategies for our clients, which include Maker's Mark and Knob Creek bourbons, also advise Beam Global Spirits & Wine across their brand portfolio, and blog about social media strategy, tools, case studies and issues at SocialMediaExplorer.com.
And so far, almost every day, I go to the Y and work out. #twit2fit!