Support for diabetics, family
Ning Network Spotlight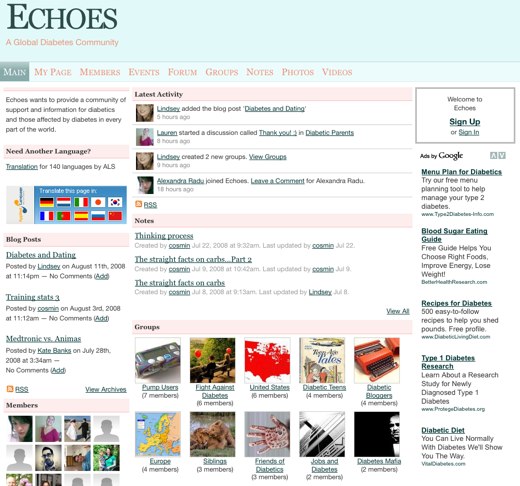 Echos, a Global Diabetes Community wants to provide support and knowledge for people suffering with or effected by diabetes in all parts of the world. If you are looking to learn more about diabetes or are experiencing life as a diabetic yourself, than you should check out this network!
What are some diabetes symptoms?  Featured on the main page is a video talking about the signs and symptoms of diabetics might experience.  Go to the main page and check out some of the information regarding quick health tips;  get the "Straight Facts on Carbs" — discussing good carbs and bad carbs!
Echos, has some inspiring groups featured on their main page of their network. Join "The Fight Against Diabetes" or "diabetic teens" to learn more about this worldwide health problem. Have friends who are diabetic? Check out "Friends of Diabetics" to learn more about this particular group focused on the peers of diabetics!
Echos, is a resourceful Network created to reach out to those who are eager to learn or help with the struggle of diabetes. Join Echos to learn more information about this topic!