The best pets are from West Texas
Ning Network Spotlight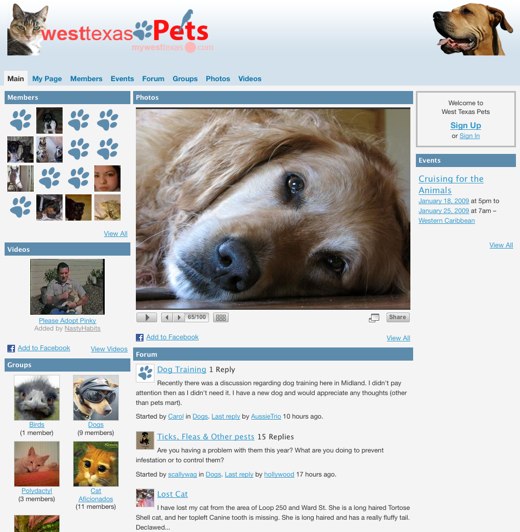 Do you have an aquarium filled with sea creatures?  A Snake? Or, a bunny? If so, Westtexas Pets is a great network to join!
Ever wonder what vaccines you should or should not give to your pets? Westtexas Pets features forums dedicated to any questions you might have concerning your furry or even scaly creatures! One of the many featured discussions talks about the concern about giving your pets a rattlesnake vaccine. These vaccines are allegedly recommended for pets residing in desert or "snaky" areas.
Using RSS feed readers built into the network and Yahoo Pipes, Westtexas has a section of its network devoted to Pet news. It informs the members of the latest stories regarding pets and their owners. The pet news section is a great way for Westtexas pet members to gain insight into the world of pet abusers and animal cruelty going on.
Westtexas Pets has an adorable array of groups to join on their network.  One of groups, Cat Aficionados, is designed for any cat owners who are controlled by their cats!
Join in on the fun and exciting discussions that are taking place on the Westtexas Pets Network today!