True Skool, your urban entertainment guide
Ning Network Spotlight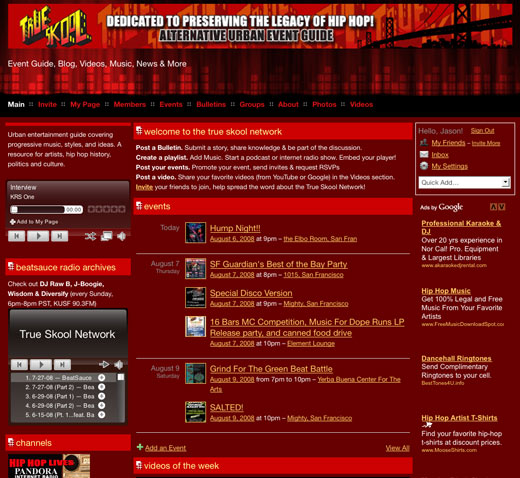 Trying to find the go-to source for all things hip hop and funk in Nor*Cal?  Scope out True Skool, a San Francisco Bay Area-based urban entertainment guide keeping you in-the-know on up and coming artists and events.
In a blog post, True Skool's founder and resident DJ, Ren the Vinyl Archaeologist, encourages members to add DJ mixes, post bulletins, link to your #1 YouTube clip and promote release parties.
Looking for some fly styles and eye candy?  Cruise through some of the 500+ True Skoolers.  Many show off their swag, bumping benefits and art through sharing photos.
Impress your crew by making True Skool your hangout for the alternative urban events scene in the Bay Area.  While you're there, don't forget to give a shout out to the mastermind behind True Skool.