Welcome to Welcome to Macintosh
Ning Network Spotlight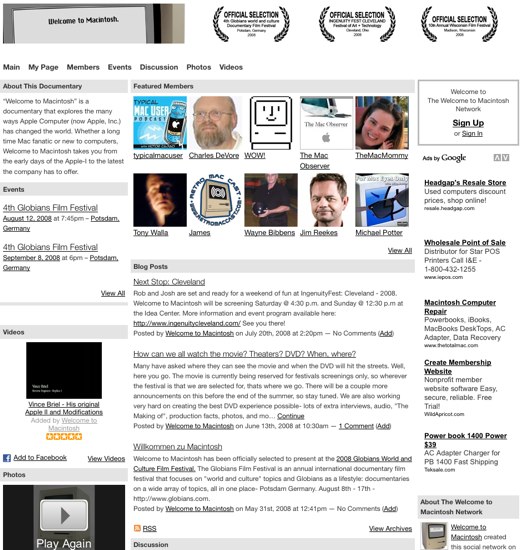 This network is based on the popular documentary, "Welcome to Macintosh." While it was originally based off the movie, the network has become a hub for mac users worldwide to connect about their favorite products. "Whether a long time Mac fanatic or new to computers, Welcome to Macintosh takes you from the early days of the Apple-I to the latest the company has to offer."
The discussion forum is a great way to get aquatinted with fellow members and delve into your favorite apple topic. If you are here for the movie, then you'll love the discussion category, The Extras. This is where members are kept abreast of deleted scenes, photos and bios that are released. These fanatics can also check out The Movie discussion category, where members can talk about the instigating movie.
Going to the main page yields a lot of fun content to keep you involved. The feed from the blogs of the members is a cool place to see what members are doing. Keeping up with Mac news is also very easy from this page. You can see news from the Retro Mac Cast in the news feed from that network. The latest rumors and secrets about the mac products can be found in the Mac Rumors Roundup feed.
If you've never seen this move you should defintely check it out. So you haven't seen the movie, but love macs? You belong on this network. Whether you've been around since the Apple // or just love the ipod, you owe yourself a browse on Welcome to Macintosh!