A hit in Hawai'i
Ning Network Spotlight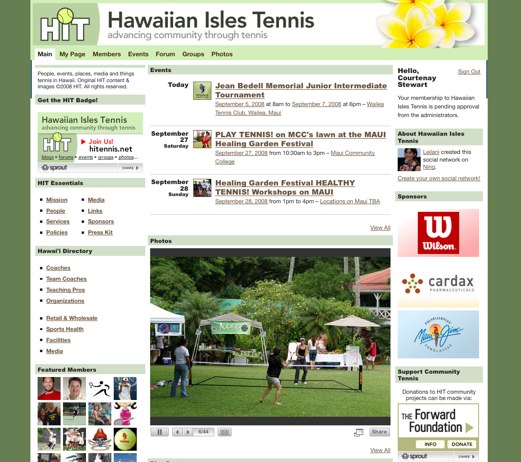 In need of some tennis tips? Head over to Hawaiian Isles Tennis to check out the active tennis scene in Hawai'i. Hawaiian Isles Tennis' mission — advancing community through tennis — is evident throughout the entire network. The network is dedicated to both promoting and providing all resources and opportunities for tennis and communities in Hawai'i.
To get started, check out the Hawai'i directory for facilities, coaches and local organizations. Get all of your questions answered by scrolling through the forum, where you will find everything from "Pro favs" to "Collegiate Tennis". Once you are ready to show off your stuff — or just sit in and watch the fun — look through the many upcoming events. Members can sign up for their island's own group to stay up to date on tennis news in their area.
Even if you aren't from Hawai'i, this network has just about every tennis related topic in one place. Plus, who doesn't want to visit? So take a swing at Hawaiian Isles Tennis!