A virtual home for Ateneo de La Salle University
Ning Network Spotlight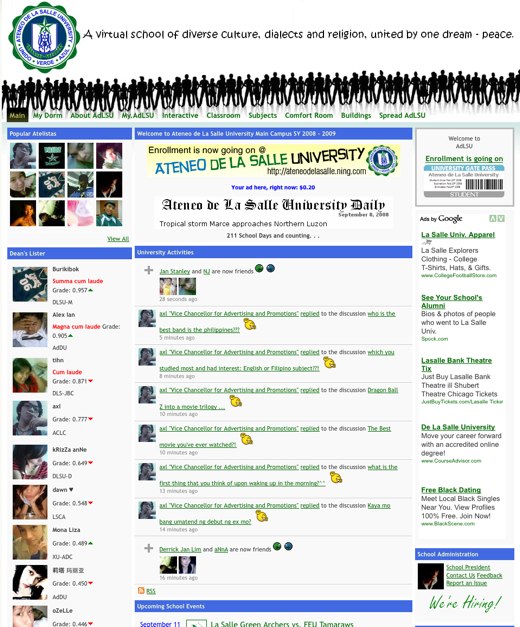 As a recent graduate who's happy to be in the "real world," going back to school is the last thing on my mind. However, if classes are anything like they are at Ateneo de La Salle University, I might just have to reconsider. Ateneo de La Salle University is a social network for Ateneans and La Sallians worldwide. Nab a University Gate Pass and check out the virtual school of diverse culture, dialects and religion.
Starting a new school doesn't have to be daunting. It's easy to get going with this simple and comprehensive guide. Don't forget to get involved in extracurriculars by participating in some of the organizations. With more than 76, you're sure to find something you're passionate about! Make your way onto the Dean's List by being well-rounded and participating in all the subjects — Palusotology, Poli Sci, Psychology, Cnema2graphy. Don't shy away from speaking up! Where else are you going to find a more receptive and attentive School President?
Most importantly, don't forget to have fun! There are more than 2,500 students to mingle with, 3,500 photos to check out and a magazine to flip through. Sports fans will appreciate the University Athletic Association of the Philippines Playoffs bracket right on the main page.
Hit the books at Ateneo de La Salle University!