August Uptime Report
Maintenance
Ning News
I wanted to follow up on my post at the beginning of August. We successfully completed the planned maintenance we talked about then. That's the good news.
The bad news is that we also ran into two unplanned and unexpected production incidents that took down the Ning Platform for almost four additional hours in August. As a result, we ended August with 99.3% uptime. We have since identified and fixed these specific issues as well as added further bulletproofing across our systems.
Below is a graph of our uptime and availability since January: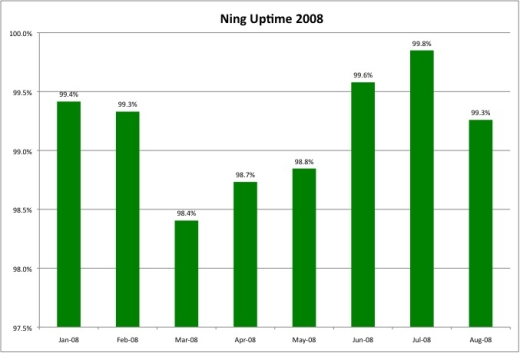 Our goal from here is to identify remaining performance and availability "hotspots" and address them as rapidly as possible. We'll be aiming for uptime levels in September that match or exceed July. Otherwise we look forward to a quiet month on the operations side focused on supporting the new releases we have coming down the pipe.