Come join The Wildlife
Ning Network Spotlight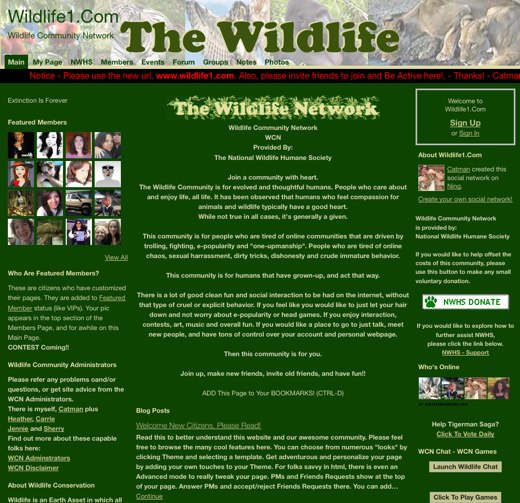 The National Wildlife Humane Society has a new online home and it is bigger and better than ever. Supporters can show their animal love on The Wildlife Community Network. As described by its creators, it is the network with heart.
The National Wildlife Humane Society, a non-profit wildlife conservation organization, provides programs to protect and preserve threatened and endangered species. Now, The Wildlife Community Network, provides a place for members to tell their stories and share their opinions. It aims to connect people who care about and enjoy life, all life.
The Forum is a great place to start. Wildlife loving members discuss topics like the Endangered Species Act, Wilderness Legislation and wolf rescues. While animal related forums are the most popular, members also seek support for family, health and relationship issues. The network's groups are another place where members connect beyond animal rights. The music group and customizing pages group are a few examples. In fact, the members with the most beautiful and creative profile pages are featured each week.
Want to join in? Check out some of the 1,200 wildlife photos for some natural inspiration first. So start creating and more importantly, sharing your vision for a more humane world on The Wildlife Community Network.