Detroitr, the real Motr city
Ning Network Spotlight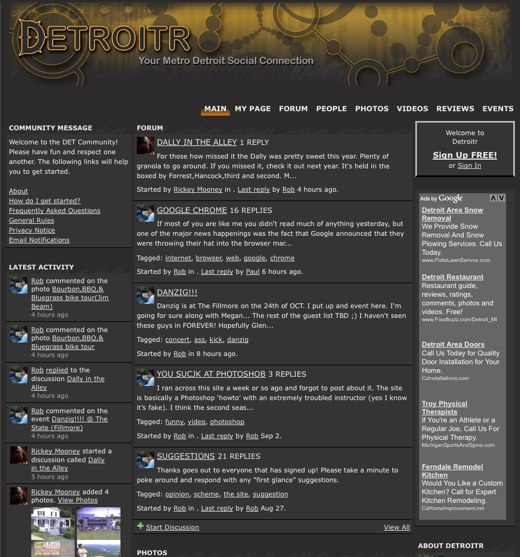 The Motor City has a new online hub of activity in the Detroitr social network, where members make plans to meet up, discuss Detroit's hot spots and learn more about their favorite city.
An active forum provides a place for the members of Detroitr to chat about everything from Google Chrome to reminiscing about GI Joe. As it's a regional network, was members of Detroitr know most about is their hometown. A second forum is devoted exclusively to reviews and each post includes a super-handy Google map. Whether you want to know about Pete's Place in Ferndale (four stars says member Amy) or Sala Thai in Detroit's Lafayette Park, Detroitr's in-the-know members are able to gently steer you in the right direction.
The big auto makers may be feeling some economic hurt, but from the looks of Detroitr, that isn't stopping people from having a good time. Get in the action at Detroitr today!