Experience the arts at AnythingArts.com
Ning Network Spotlight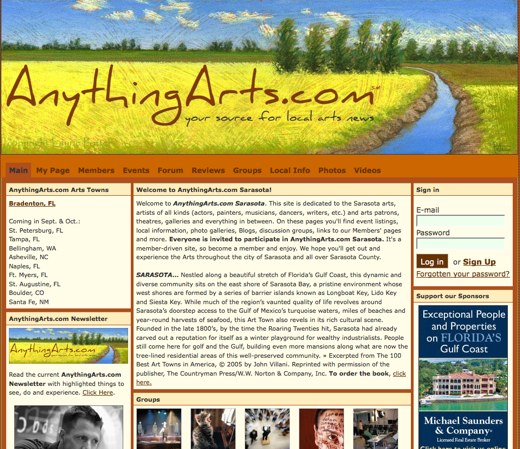 Get in touch with your creative side at Anything Arts.com. Anything Arts Sarasota is a network dedicated to the arts, theatres, art patrons and galleries of Sarasota, Fl.
To catch your favorite art event or branch out and experience a new art form, start by scrolling through events. Upcoming highlights include: "Belly Dance with Bethsheba", "Victory of Love-The Opera", "Lazy Fairy Improv Show" and "48 Hour Guerrilla Film Competition". In addition to the extensive art-related events, Anything Arts.com also features local info from weather reports to local dining.
Prefer to enjoy your artistic interests from home? Check out the photos section where you can view beautiful work from local painters and photographers. For more inspiration and support, join one of the network's active groups where you can connect within your specific field. Whether you are a writer, graphic designer or actor, there is a group for every artistic pursuit!
Experiencing the arts throughout Sarasota has never been easier. So whether you want to be inspired at a local event or just connect with fellow artists, Anything Arts.com Sarasota is the place to start!